Skip to content
Skip to navigation menu
A lower quantity of this product has been added to your cart due to insufficient stock
Woodland, the EISA award-winning outdoor speaker, is built with you and your outdoors in mind. A rugged, waterproof bluetooth speaker that works with your phone or runs with DAB+/FM and 6 presets. The unique oval shape, is easy to use and very tactile with reinforced bumpers top and bottom, so you are worry-free when gardening or camping. With up to 14hrs battery life, Woodland is the perfect companion for your outdoor activity as well as indoor tinkering away in your workshop or just listening while you cook. Woodland is an all round good choice!
More
For a limited time only! Every purchase of a Pure Woodland now receives a Pure Bird House FOR FREE. And: All profits made until the end of year, are being donated to the Woodland Trust UK.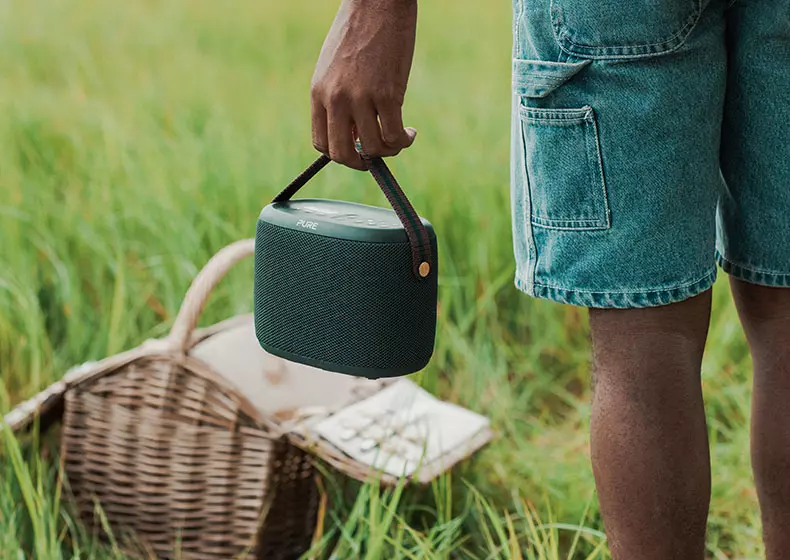 Thoughtful, robust design
Woodland has a very distinctive, considered design with soft round edges, recessed buttons and a soft touch carry handle that looks great indoors and outdoors. Don't be fooled by its compact size, once you pick it up, you won't want to put it down. Easy to use, great sound - Woodland is the perfect Bluetooth speaker built with you in mind!
A rich sound for all your needs
Music, talk shows, podcast or simply keeping up with the news, the Woodland performs every time. With a 10watt dual acoustic speaker using a combination of an active and passive technology, the Woodland delivers a rich, warm and joyful sound wherever you are.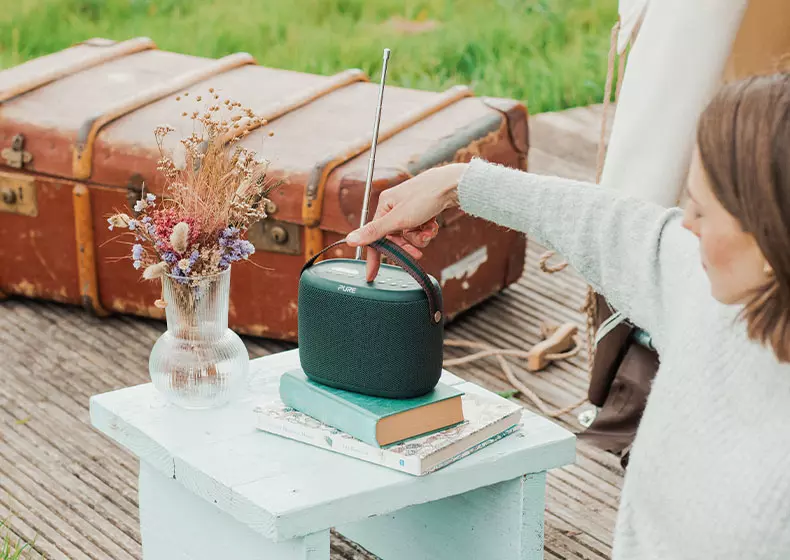 Portable and easy to use
With 5.1 Bluetooth enabled, the Woodland is a perfect choice when you want to listen to your favourite playlist. Fully connected, you can stream all your favourites from your phone, or give your smartphone a day off and listen to DAB+/FM radio while you enjoy the outdoors.
Just the features you need
Rather than overcomplicate things, Pure have designed Woodland with you and the outdoors in mind. It is the perfect companion while you are busy taking care of other things. Reinforced bumpers top and bottom, along with dust and water resistance (IP67), Woodland should survive even the most clumsy... we all know who you are! And after a hard day of work in the garden, you can even bring it to the bathroom with you. Whether pottering about, BBQing with friends, or hiding in your workshop, with up to 14hrs playtime and 6 presets (DAB+/FM) you won't have to compromise.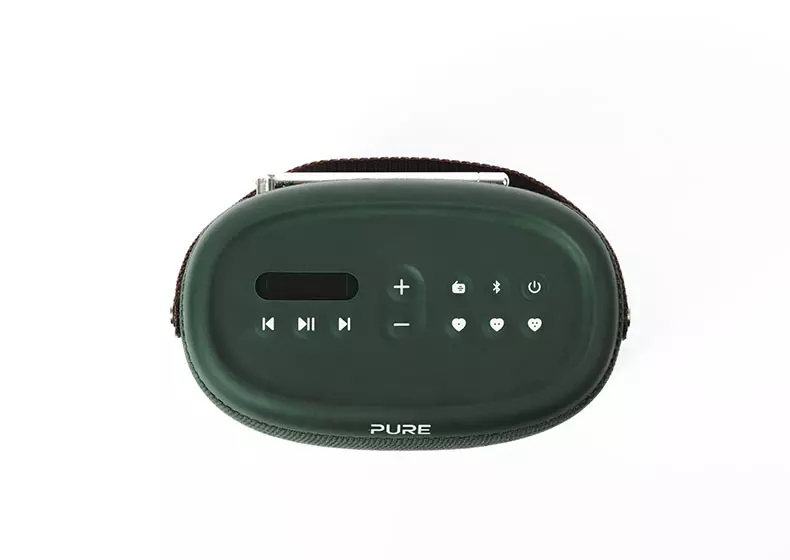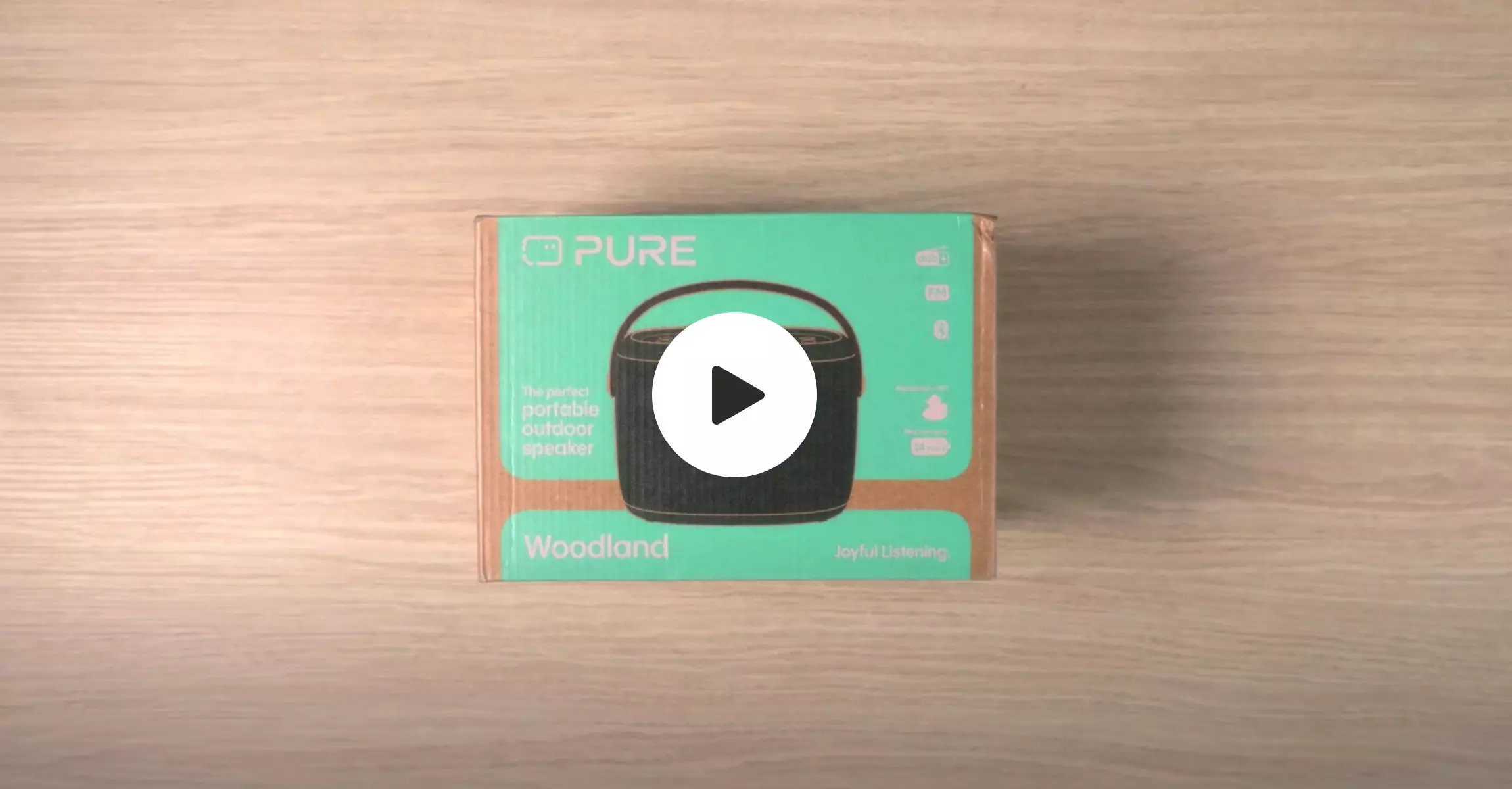 Powerful rich, warm audio
The 10 watt dual acoustic speakers deliver a rich warm sound at all levels for music and spoken word.
Long battery runtime
Built in battery with up to 14hrs playtime, you simply take the Woodland where you want to be.
Portable, easy-to-carry speaker
A soft webb carry handle makes it easy to grab and go, or simply hang from a convenient peg where you are.
Robust, sturdy design
Reinforced bumpers top and bottom, as well as dust and waterproof (IP67) gives the Woodland protection when outdoors, or when exposed to weather changes and small accidents.
Preset buttons
There are 3 presets buttons, each button can store up to 2 of your favourite programmes each (1 DAB+ and 1 FM). Giving a total of 6 presets.
Easy to use
By simplifying the technology and creating a simple user interface, the Woodland is easy to use for all the family.
Bluetooth 5.1 with DAB+ and FM
Stream all your favourites to the Woodland or give your smartphone the day off and switch to DAB+ and FM.
Easy wipe-clean fabric
The Woodland has been made with soft, easy to wipe clean fabric making it easy to take care of your device.
Display
The display is a 128 x 32 dot matrix display, backlit, with manual controls to enable clear visibility in direct sunlight.
Power supply
Mains with integrated rechargeable lithium battery pack, up to 14hrs playtime.
Input connectors
USB-C software updates & charging only
Battery
There is a built-in battery, 4000mAH 3.7V 14.8Wh.
Manufacturer number:
WOODLANDS L
Product weight:
0.7 kilograms
Radio frequency (FM)
87.5-108MHz
Radio frequency (DAB/DAB+)
174-240MHz
Inputs:
USB-C (Power & Updates)
Outputs:
USB-A (Charging only)
Power:
Power cable/Battery
Battery capacity:
4000mAh
Speakers:
1 x 3" full range drivers & 1 x passive radiator